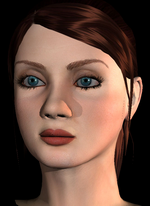 Digital animation and interactive entertainment using 3D graphics modeling are Momentum's core focus areas. We provide a wide range of 3D graphics products and services to our customers including both real-time and off-line rendering solutions. Momentum's technologies in 3D face modeling and animation are augmented with state-of-the-art graphics programming expertise including GPU shader programming and modeling/animation authoring tools.
3D Modeling and Animation
Momentum has developed proprietary technologies for generating personalized 3D face models and for realistically animating these models in real-time. These technologies are compatiable with popular modeling, animation and rendering tools like Autodesk® Maya® and 3ds Max®.
3D Characters for Presentations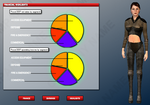 Momentum has applied its 3D face modeling and animation technology to easily create fascinating presentations with virtual characters in them. These presentations can be embedded into web sites, regular 2D presentations (e.g. Powerpoint®) and other office documents. Interactivity can be added using Flash animation technology.
Features
Personalized human body and face models
Realistic skeleton and face animations with lip synchronization and expressions
Professional look-and-feel with fascinating audio-visual effects
Interactivity for Flash animations
Benefits
Can be used in impressive corporate presentations, press releases, newsletters, etc.
Visual human interaction can be added very rapidly at a very low-cost
Can be used with audio recording input, or text input only with Momentum's Text-to-Speech (TTS) technology
Interactive presentation with a 3D character: