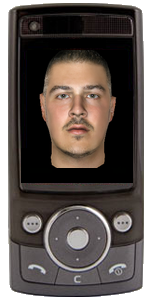 A 3D audio-visual renderer has been developed to implement Momentum's patented face animation technology for mobile and videophone applications. The renderer allows for high-quality, speech-synchronized lip and head animation with minimum latency.
Real-Time Avatar for Video Telephony
Momentum offers a novel technology to provide a real-time avatar-based video call solution for 3G mobile and videophone service providers. During an avatar video call, the user's voice will be processed in real-time in order to drive Momentum's facial animation rendering engine on the mobile or videophone service providers servers. The lip-synchronized and photo-realistic live avatar video stream will be transmitted over the network to the other user's phone.
Features
Auto lip-synchronization, facial expression and head motion
Standard set of avatars as well as automatic personalized avatar generation
Benefits
Allows video telephony between 3G mobile phones/videophones for phones without cameras
State-of-the-art technology to support company image
The System Diagram: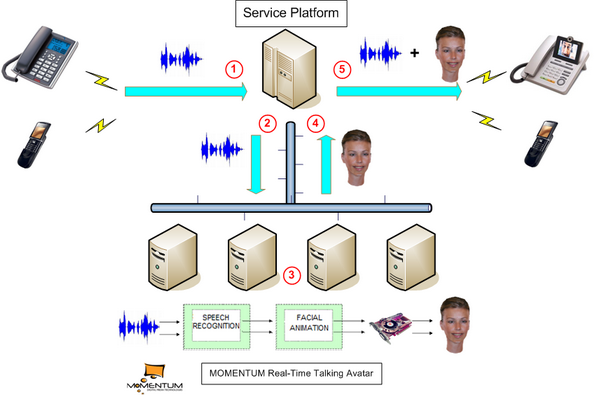 As the speech stream arrives at the telecom service provider's system (1), the stream is transmitted to the Avatar generation subsystem (2) for subscribers of the avatar service. The real-time speech recognition module generates input for the real-time facial animation rendering engine (3). The output video is compressed to a suitable format for delivery (4). The original speech stream is combined with the avatar video and finally sent to the receiver (5).
 Demo:

Text-to-Speech for Avatar Rendering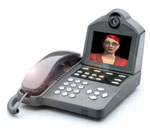 Momentum also offers Text-to-Speech (TTS) technology for real-time avatar-based rendering solution for mobile and videophone service providers. Momentum's TTS software automatically converts text input to speech, which can be used to drive Momentum's facial animation rendering engine.
Features
TTS engine to create a speech sample and viseme based lip-synced render from text only
Rapid, automatic, low-cost video generation
Auto lip sync, facial expression and head motion
Standard set of avatars, photorealistic or cartoon
Benefits
Revenue generation through subscriptions
Revenue generation through selling promotion services to businesses
Demo: