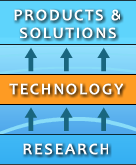 The application of accumulated research know-how into practical use lead to concrete, useful technological deliverables in the form of patented algorithms, effective software tools, and interactive multimedia content.
Momentum is developing an extensive set of tools for creating, testing, and visualising games for entertainment, training, and simulation on the Windows platform.
Distance Education on Interactive TV
Momentum is developing new methods, technologies and applications for communicating interactive educational content to end users on the interactive digital TV platform.
Momentum has developed patented algorithms and proprietary technologies for generating personalized 3D face models and for realistically animating these models in real-time.
Momentum has developed a real-time 3D audio-visual renderer for implementing Momentum face animation technology on the mobile platform with Symbian operating system.
Automatic Lip and Expession Animation
Momentum has developed speech processing algorithms for automatically generating speech synchronous facial expressions and lip animation for 3D talking heads.
Video Processing
Momentum is currently developing video processing technologies that combine our expertise in video compression, motion estimation, high-resolution reconstruction, and multi-view video processing.