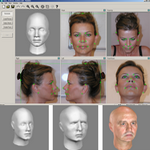 Momentum has developed proprietary technologies for generating personalized 3D face models and for realistically animating these models in real-time. The 3D face models are generated using only a few photographs and they accurately represent the geometry and the texture of the face in every direction.
MODELING
The patented model generation method is insensitive to position, scale and illumination differences among photographs, rotation inaccuracies, and any perspective deformations due to the camera lens. The head models are seamlessly integrated with skeletally animated body models.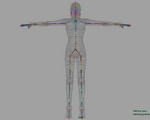 ANIMATION
The animation technology employs a patented double-layer mesh deformation scheme for animating facial movements and a novel viseme generation scheme for lip-synchronization. The model generation, skeletal animation, facial animation, and lip-synchronization technologies are extensively used in the creation of the TV series "Adile Teyze ve Kuzucuklar". The main features of these technologies are as follows:
Face model generation
Personalized and photorealistic face models
Economical and fast model generation
Resolution-scalable and MPEG-4 ready
Face animation
Realistic facial expressions and lip animation
Real-time rendering
Band-width efficient for mobile and Internet applications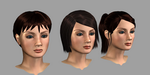 RENDERING
The models are assigned materials that include high-definition utility textures and GPU programs for state-of-the-art rendering techniques like dynamic soft shadows, crease maps, bump maps, and subsurface scattering.
PRESENTATIONS
3D Body & Face Modeling & Animation. A brief overview of Momentum's 3D modeling and animation technologies.