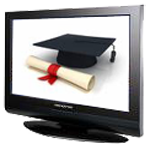 Research is conducted on a variety of problems to address the needs of a wide range of current and future digital media applications. Momentum has generated several US and EU patents as a result of these research activities. There is also a substantial in-house expertise in the general areas of digital signal , image and video processing.
Television is a device that exists in almost every household today. With the rapid development and utilization of digital television technology, there is a huge potential for interactive digital TV (iDTV) to become a valuable educational tool. In order to fully use this potential, Momentum is developing new methods, technologies and applications for communicating interactive educational content to end users. Education using interactive digital TV is expected to enable life-long, low cost and location free education opportunities for all people.
Momentum has developed an interactive e-learning portal on D-Smart. Partnering with ZTV of MediaSa, ZTV channel, which is a video based educational channel providing preparation classes for students preparing for matriculation exams, has been launched as an interactive channel in April 2008.