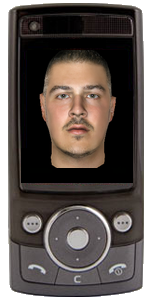 A 3D audio-visual renderer has been developed to implement Momentum's patented face animation technology for mobile and videophone applications. The renderer allows for high-quality, speech-synchronized lip and head animation with minimum latency.
3D MESSAGING
A mobile 3D messaging application, world's first mobile messaging system using computer generated talking 3D faces has been developed to be used with mobile phones running Symbian™ operating system.
REAL-TIME AVATAR VIDEO CALLS
Momentum offers a novel technology to provide a real-time avatar-based video call solution for mobile and videophone service providers. During an avatar video call, the user's voice will be processed in real-time in order to drive Momentum's facial animation rendering engine on the mobile or videophone service providers servers. The lip-synchronized and photo-realistic live avatar video stream will be transmitted over the network to the other user's phone.